Wednesday, 31 August 2022
Nurse Rosebelle Mutuku remembers vividly the first time she encountered a patient with disability while on shift at the maternity wing of a local hospital. "She had her left leg amputated and needed a walking aid. The labor stage went well, but when it came to the delivery, the routine instructions that I would give to mothers while giving birth such as flexing of the legs and lying on the back proved difficult for her," says nurse Mutuku. "I felt frustrated and helpless and had to seek help from the doctor and other nurses for a safe delivery."
In 2020, UNFPA supported disability rights organization This-Ability Trust to conduct an assessment of healthcare workers' skills on sexual and reproductive health and disability. The assessment established that many healthcare workers had sub-optimal skills to address SRH needs of persons with disabilities. This led to the launch of a five-week training course to equip healthcare workers with the knowledge and skills to provide rights-based non-discriminatory family planning, HIV and maternal health care, and gender-based violence response services to women and girls with disabilities.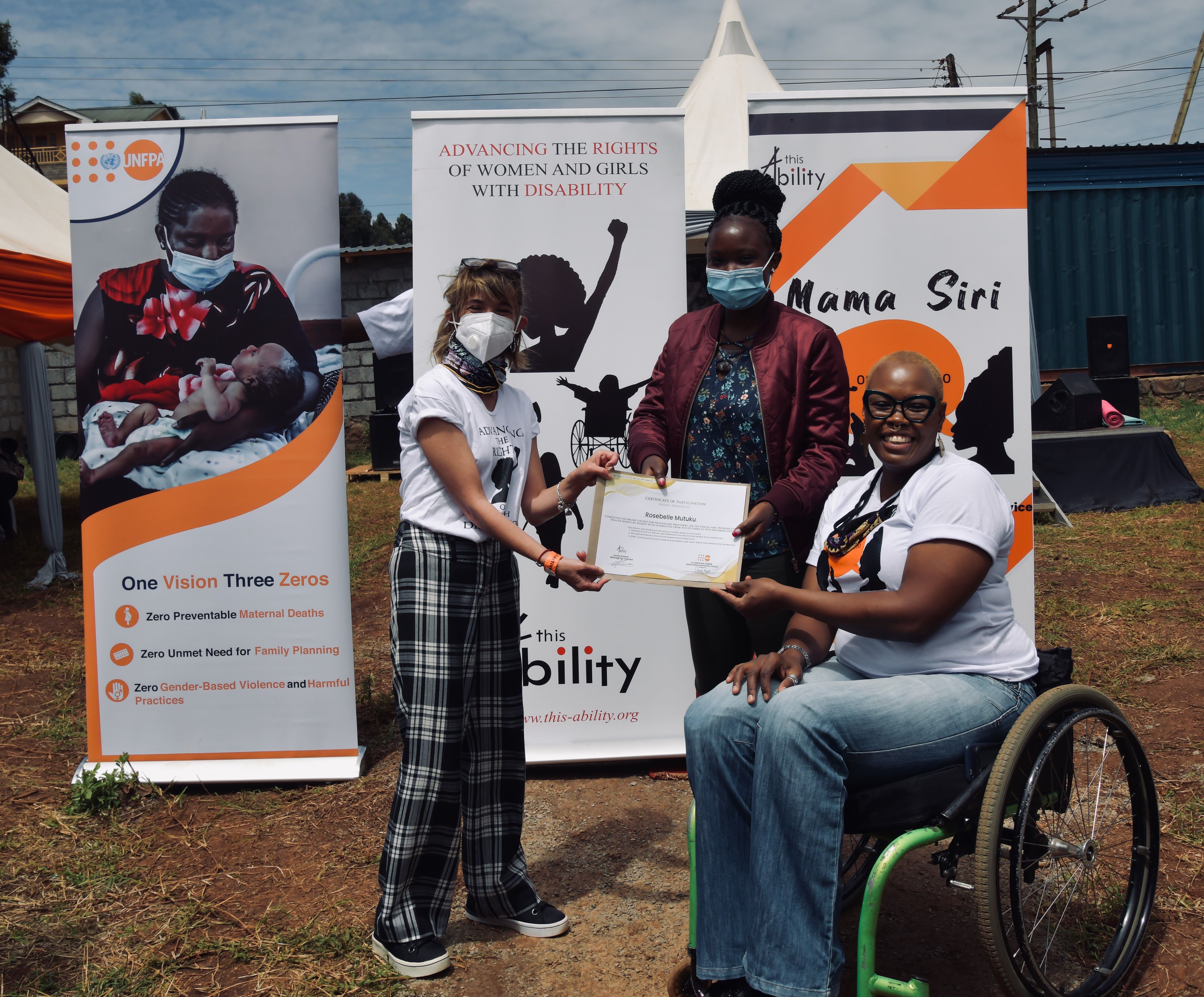 Persons with disabilities make up 2.2% of the Kenyan population, a majority of whom (57%), are women and girls. Women with disabilities often face prejudice, stigma, and discrimination in accessing health services. Limited knowledge and understanding of the health needs of persons with disabilities by healthcare providers also hinders access to sexual and reproductive health services and information for women with disabilities. "Majority of health workers have inadequate training and professional development about disability, which impacts on the way they provide care to people with disabilities," says This-Ability Trust Managing Trustee, Ms. Lizzie Kiama.
For Catherine Syokau, a 30-year-old mother of one, her experience while giving birth as a woman with a lower limb disability reaffirmed her view that more effort needs to be made towards an inclusive healthcare system. "During my antenatal clinic visits, I would get strange looks from other women in the waiting area. After giving birth to my baby, staying at the hospital was challenging because the beds and toilets were not modified for a patient with disabilities," she says. Ms. Syokau believes that programmes that adequately prepare healthcare workers and facilities to serve persons with disabilities should be given priority as the country moves to implement universal health coverage.
Anne Gitonga, a nurse at the Riruta Health Center in the Nairobi City County successfully completed the course on sexual and reproductive health services and disability. "The training opened my eyes on how to better serve patients with disabilities by ensuring that their rights and needs are respected right from the initial consultation to the administering of treatment," she says. Nurse Mutuku is also eager to improve her service delivery with knowledge gained from the course. "I am now more aware of the changes I need to make in providing services such as family planning. This should be a private conversation between the healthcare provider and the client which can be facilitated by learning sign language, or preparing information products in braille," she says.

Fifty healthcare workers who included nurses, midwives, and clinical officers have so far graduated from the course. "The healthcare workers trained through this programme are not only able to provide better services to persons with disabilities, but they also acquire skills to advocate for better policies that promote inclusive and accessible healthcare for women and girls with disabilities in public health facilities," says UNFPA HIV and Disability Program Analyst, Ms. Lilian Langat.